Featured Designs
What's New in 2023
Knoll will introduce a new outdoor collection by Piero Lissoni, a re-launch of an archival lounge-height Saarinen table, and the 1966 Collection by Richard Schultz in a new dark red frame. The new collections will be presented alongside classic products from the Knoll portfolio, including designs by Florence Knoll, Ludwig Mies van der Rohe, and Harry Bertoia.
Lissoni Outdoor Collection
by Piero Lissoni
Our long-standing collaboration with Piero Lissoni continues with the debut of an outdoor furniture collection that merges linear modernist style with the contemporary desire for comfort. Inspired by the 1966 Collection by Richard Schultz, the Lissoni Outdoor Collection is distinguished by linear aluminium frames that host deep cushions for an absolute level of comfort and relaxation. Composed of two- and three-seat sofas, armchairs, stools, and coffee tables in various sizes, the collection is available in three aluminium finishes—white, onyx, and dark red—with a new selection of outdoor upholstery fabrics that allow numerous options for customisation. Cushion covers are fully removable and suited for extended outdoor use.
Saarinen Lounge-Height Table
by Eero Saarinen
In 1957, Knoll introduced its revolutionary collection of pedestal-based tables and chairs by Eero Saarinen. Still considered one of the most iconic examples of post-war design, the unmistakable profile seems to grow from the ground to become one with the surrounding environment.
Today, we announce the reissue of an archival 66cm height for two round table diameters (91cm and 107cm). The new height is an ideal partner to a sofa or lounge chair, serving the contemporary need for flexible living and work. Materials and finishes remain unchanged: the top is offered in a wide variety of marble, white or black laminate, or a range of precious wood, and the base in white or black rilsan.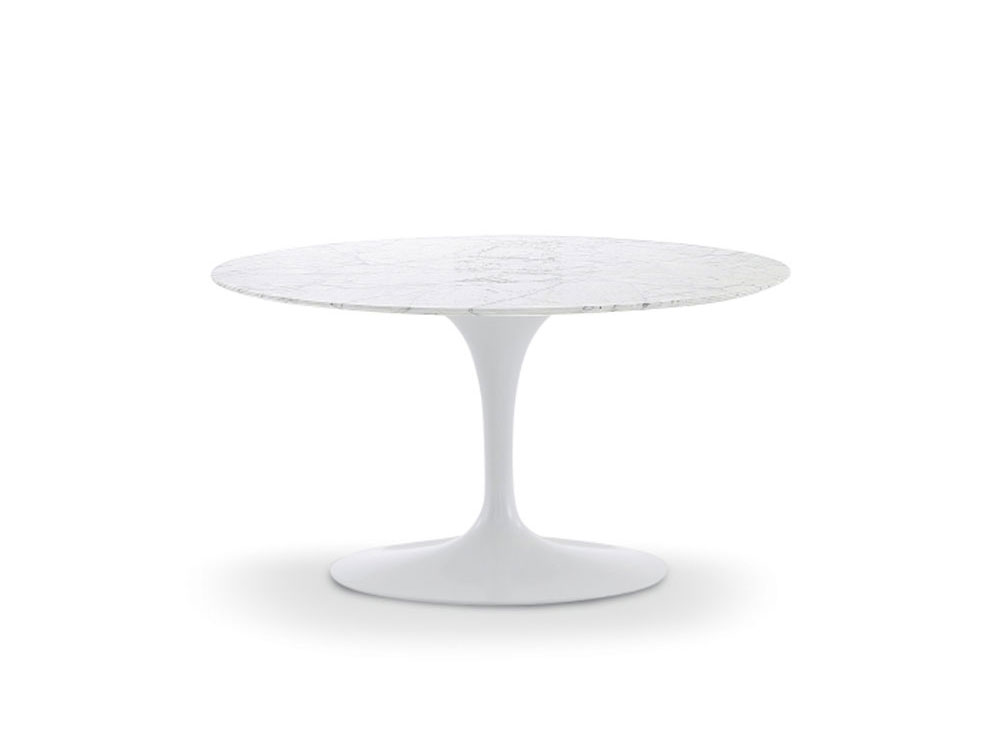 The Richard Schultz 1966 Collection
by Richard Schultz
When Florence Knoll retired to Florida, USA, she needed poolside furniture to withstand the tropical sun and salty air. She engaged Richard Schultz for the designs, whom she knew through his collaboration with Harry Bertoia. Thus was born the Leisure Collection, now known as the 1966 Collection—the first collection of outdoor furniture to become an enduring classic.
This year, the collection expands to include a new dark red finish option for the frame—a striking contrast to the characteristic white mesh of the seat. The new finish is offered in the 1966 Tables, rectangular or square with porcelain steel top; the 1966 Chair with and without armrests; the 1966 Chaise Lounge with or without adjustable backrest; the 1966 Serving Cart; and square 1966 Tables in a variety of sizes.
Pfister Sofa
by Charles Pfister
Charles Pfister designed a sofa collection in 1971 whose restrained elegance and solid proportions would make it a cornerstone of the Knoll portfolio and a hallmark of craftsmanship and timeless design.
The Pfister collection is now renewed with a deeper seat designed to optimise comfort, revivifying its earliest manifestation. It includes several lounge variants, including armchairs and two- and three-seat sofas. A wide range of leather and fabric finishes allows for the customisation of Pfister's every detail, expressing a bespoke vision in any type of environment.
D'Urso Low Tables
by Joseph Paul D'Urso
Joseph D'Urso, a renowned interior designer with a minimalist style, designed a collection of tables to great acclaim in 1980. Initially developed for the US market, the collection has now reached the European and Asian markets.
Hallmarks of the collection are simple lines that combine streamlined proportions and industrial materials, highlighting D'Urso's preference for objects designed to adapt to any function and situation. The D'Urso Low Table has a round or square top and is available in a variety of materials. Its structure is complemented by casters to allow for convenient movement within spaces.