Risom's 600 Series

For those four or five years we were really very, very close, and this was the beginning. —Jens Risom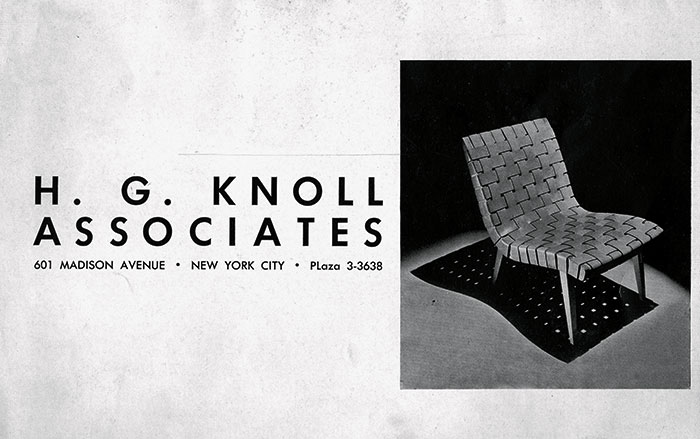 As fate would have it, Hans Knoll and Jens Risom (born on the same day, May 8th, two years apart in 1914 and 1916) would meet shortly after emigrating to the United States from Germany and Denmark in 1937 and 1938.

Knowing that the war would disrupt his supply lines from Europe, Hans Knoll was searching for someone to develop original Knoll Furniture, anything but the nondescript designs he was working with at the time. Meanwhile, Jens Risom was searching for a champion and salesman of his own furniture work. Luckily they found each other, and in 1941 the two young men — just 27 and 26 — embarked on a research road trip:
"They began by going on a four-month tour around the United States with their wives (Hans Knoll's first wife), May to September 1941, talking to architects and designers; Howard Meyers [editor and publisher of Architectural Forum] gave them names of the ones to see, some of whom later became good Knoll customers. There was then more contemporary work to be had in the West and Southwest than in the East, but they nonetheless decided that New York City was the center of design and the place for them." (Eric Larrabee and Massimo Vignelli. Knoll Design. 1981.)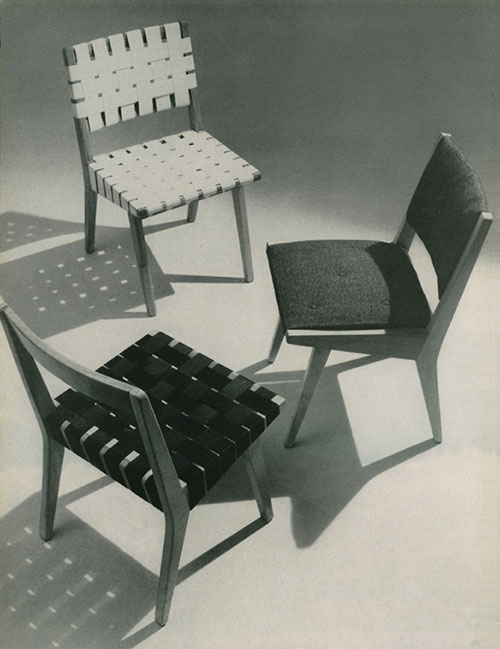 What they landed on became the "600 Series," driven largely by wartime priorities. In turn Risom's collection was among the only modern furniture available: deliberately designed with non-essential materials (cherry wood, not too much of it, and surplus parachute webbing) for a wartime market. Simple in construction and inexpensive to produce, the side and lounge chairs were immediately popular. Of the twenty-five pieces in the first catalogue of the Hans Knoll Furniture Company, published in April 1942, fifteen were designed by Jens Risom. The 600 Series survives today with the Risom Side Chair, Lounge Chair, Stool, Dining and Amoeba Tables. Jens Risom later recalled that the line was "bought for a lot of lounges: USO lounges, company lounges, airports, almost anything."

In a July 18, 1943 New York Times column entitled, "The Home in Wartime," Mary Madison wrote: "Prefabricated furniture is the latest output of a streamlined manufacturing system born of war. Standardized parts—arms, legs, spine-fitting seats and backs—are as indefinitely interchangeable as the pieces of a child's mechano set. They arrive, unassembled, at the purchaser's home, and may be put together immediately without benefit of screws or nails. Chairs and settees (consisting simply of a larger frame and two or three of the standard seat units) are done in lattice-woven webbing—bark-brown, green, tile-gray and olive-drab—and also in rough-textured upholstery fabrics, canvas and even occasionally in non-priority leather."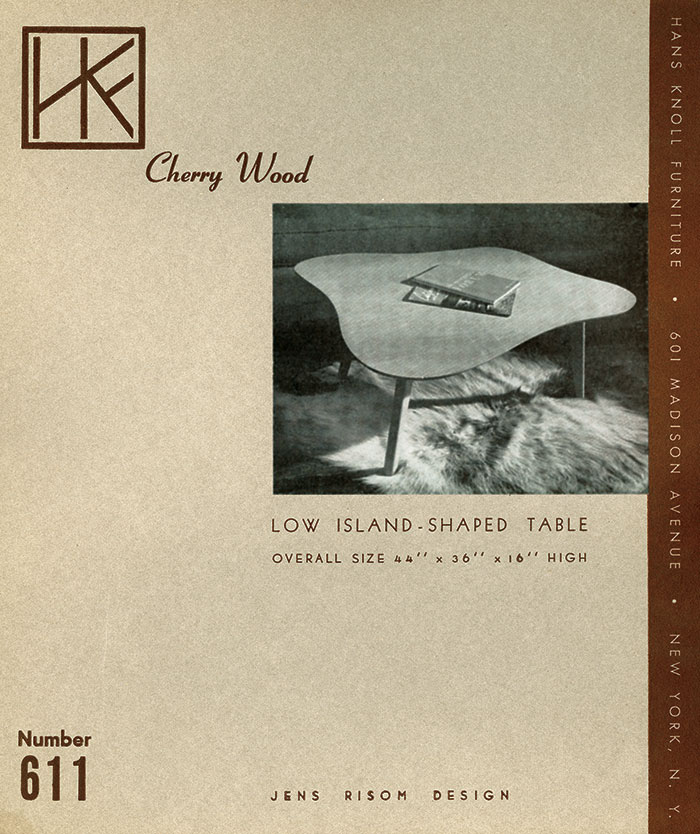 During this period of collaboration, and before Risom was drafted into the army in 1943, the duo completed among other projects two interiors at the New York World's Fair of 1939-40: the press lounge at the General Motors exhibit, including Norman bel Geddes's popular Futurama, as well as the "living kitchen" of the "America at Home" booth designed by Allmon Fordyce. Notably Risom also designed the first Knoll showroom at 601 Madison Avenue, later re-designed.

In 1946, after returning from the war and working briefly with Knoll, Risom established his own furniture line: Jens Risom Design.